Filter by Category
Our Classes
Membership 7/1/2021-6/30/2022

Jul 1, 2021
Membership runs from 7/1/2021 through 6/30/2022 and must be current in order to register for a class.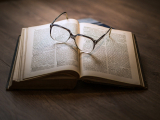 Book Talk
with Arlene Jackson

Sep 8, 2021 at 10 am

, runs for 8 weeks
Wednesday          Online
We're trying something new this September.  We'll be combining two classes that will be reading the following books for this 8-week course which will be held every other Wednesday.  The members should sign up with and pay registration and membership fees to their respective senior college (York County or South Coast Senior College).  Each person will receive their invitation to the course on Tuesday afternoon prior to the class.  Both colleges will work together in administering the course, which will be available to 15 students from each college.  
          Title                                Author                      Class Date
Extraodinary Life of Sam Hell     Robert Dugoni              September 8
The Cellist                                Daniel Silva                  September 22
Woman in White                       Wilkie Collins                October 6
Northern Spy                            Flynn Berry                  October 20
The Lacuna                               Barbara Kingsolver       November 3
Eleanor                                     David Michaelis            November 17
The Alchemist                            Paulo Coelho               December 1
The Four Winds                          Kristin Hannah            December 15
Full Course
Beliefs of our Founders
with Ian Kaiser

Dec 2, 2021 at 10 am

, runs for 4 weeks
As a businessman, pastor, and city manager, I have been passionate about making a difference in the communities I have lived and worked in.  I have wrestled with change within a culture that resists change.  I believe an examination of our history in light of our beliefs and changing culture can move us forward toward a more perfect union.
At a time when our country seems divided by extremism, this course draws upon history to offer a new perspective on God and politics.  Religion shapes our public life.  We will explore how our nation grapples with faith and government.  How did our Founders and great leaders know where the work of God stopped and reason began?  By exploring our history through the eye of Washington through Ronald Reagan, from the Declaration of Independence to the Civil Rights Movement of Martin Luther King and beyond, we will gain clarity on how their beliefs shaped our country.
Will run